Get the Heroes of the Storm Nexus Challenge Rewards! Oni Genji included!
Heroes of The Storm
GENJI ONI SKIN (OVERWATCH) REWARDS AND MORE!
Heroes of the Storm latest attraction - The Nexus Challenge includes a number of rewards that can be won by anyone playing the game with a friend. Main purpose of this new feature as we can all figure out is to attract more players into the Nexus. One of the most attractive rewards without a doubt is the Genji Oni skin! All Overwatch players and especially the Genji mains should love that skin, it's absolutely SICK!
The Challenge of course has more than one reward
For 15 games in a party you will receive the following


For 30 games in a party you will get extra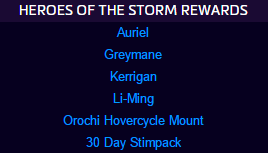 There is something for each fan of both Overwatch and Heroes of the Storm.
Myboosting, as always, will offer the harvesting of these rewards. What better place is there then the site that specializes of HotS and Overwatch boosting!

The rewards are one step away! Simply click:
Hots-Nexus-Challenge
Base pack price- 60$
Duo pack price - 40.2$
Be one of the few Overpowered Genji players that posses this awesome skin!
The offer is available in both Solo and Duo options to fit each individual needs.
Grab the rewards while you can. The Nexus Challenge is for taking from 15th November to 4th January!
Regards,
Myboosting.com - The quality Heroes of the Storm and Overwatch boosting service!